KPM Analytics
Quality control has never been more important in food production. Rising ingredient prices, high energy costs, and an unstable workforce have caused many companies to look closely at their quality assurance methods.
The baking industry has seen its share of struggles in recent years. Competition has always been fierce, but high prices for sugar, chocolate, and flour – or lack of flour availability in some regions – have added pressure to go along with consumer demands. Still, many bakeries today rely on manual methods to ensure product quality, which is an inherently subjective and operator-dependent approach.
Over the last few decades, vision inspection technologies have emerged as a dependable method for companies to replace manual inspection processes. However, more bakeries and food production companies are developing new applications for vision inspection technologies beyond final product inspection. These innovative uses help reduce costs, improve efficiency, innovate product lines, and address challenges in their operations.
Whether used for grab sample analysis or integrated into a production process, vision inspection systems provide 100% inspection of food products before packaging.
Vision Inspection Technology Basics
Vision inspection systems use high-speed cameras and advanced imaging software to measure food products on conveyors. Companies can develop custom measurements based on the size, shape, color, and composite measurements unique to their products. Whether used at-line or integrated into a production process, these technologies provide a 100% objective inspection of product features critical to brand standards.
Recent technological advancements have provided additional levels of detailed analysis for food production, especially for baking operations. For instance, bread crumb (or porosity) analysis from these systems provides details on pore size, pore distribution, and texture expectations for baked products. New hyperspectral imaging features now also help companies fortify their food safety programs by detecting foreign objects on food products before packaging.
Advancements like these have evolved vision inspection technologies from a final-product inspection tool into a comprehensive solutions provider for companies to command product consistency elsewhere in their operations.
Porosity analysis, a new vision inspection innovation shown here, measures baked products for the number of pores, pore area, diameter, and other critical features of baked products.
Vision Inspection in R&D/Recipe Development
Increased demand for alternative product formulations – low-sodium, high-protein, and gluten-free options, to name a few – have put pressure on baking operations to innovate while maintaining visual standards that consumers expect. Baked product recipe development is an iterative process requiring several baking trials to find the right balance of ingredients to produce a satisfactory product. For instance, a bread typically made with refined white flour will take on a noticeably different appearance if the baker introduces alternative flour like whole wheat, chickpea, or others.
R&D bakers use vision inspection technology to compare trial results of their alternative recipes against the flagship product. Bakers compare volume, color, and other traits and then adjust the process as needed. They also create custom product measurements in the software to compare pilot batches, helping to ensure that their recipe will yield repeatable results. These measurements can then be passed to production facilities and added to their product inspection library.
Vision Inspection Before Baking
Every bread begins with a dough developed from flour or a blend of flour, water, salt, additional ingredients or improvers, and yeast. After dough forming comes dough proofing. In this fermentation process, yeast interacts with the dough to expel carbon dioxide, causing the dough to rise. Proofing is an important step that significantly impacts the outcome of the final product's size, volume, texture, and other detectable features.
Vision inspection technology is a helpful tool for bakeries to inspect proofing doughs for consistency before they enter the oven. Installing an in-line or over-line system provides immediate measurements of dough dimension and size. With this information, the operator can be more confident that the dough will produce the desired outcome and potentially reject or recirculate the dough before a faulty bake begins.
Analyzing dough before baking for proper size, shape, volume, and other visual characteristics is a great way to ensure final product consistency. Vision inspection technology can help.
Vision Inspection for Mechanical Process Control
Many baked goods, snack foods, and other processed products will have ingredients applied or features stamped onto the product by automated machines at various stages in the process. These elements are a brand's signature that must be applied to the product at a high level of consistency. Nevertheless, machines can clog or run out of alignment, which can lead to wasted products if undetected.
For example, production line operators use vision inspection technology to detect errors in their seed topping applicators. Before packaging, seeded buns or rolls are typically sectioned into multiple lanes to have a topping distributed evenly across the surface. A QA operator will take individual samples from each lane and run them through a benchtop vision inspection system as part of their quality check procedures. Suppose there are too few seeds on the final bun or if seed coverage is unevenly distributed. In that case, the operator can isolate the out-of-spec topping applicator and take corrective action.
Seed coverage analysis is used by many bakeries to help identify possible malfunctions in their production equipment.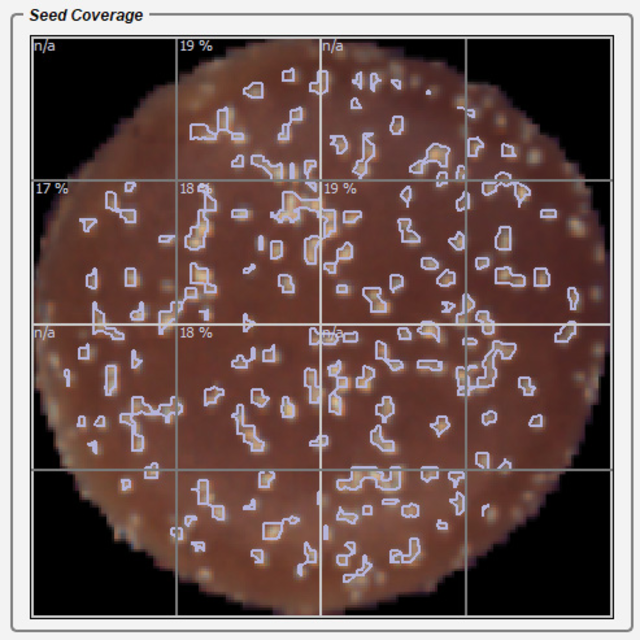 Seed coverage analysis is used by many bakeries to help identify possible malfunctions in their production equipment.KPM

Vision Inspection for Employee Training
High employee turnover has always been typical in the baking industry. Due to inconvenient working hours, a complex training regimen, or the simple fact that visual inspection of products is not exciting work, acquiring and maintaining quality assurance workers is a challenge.
The "great resignation" of the past couple of years has compounded these struggles in the baking industry. Still, as more people are heading back to work or seeking new career paths, vision inspection technology is ready to help.
Bakeries are seeing the benefits of using vision inspection technology as a simple method to train their quality assurance employees on their product line. With a complete database of objective measurements, employees can familiarize themselves with essential product details such as topping coverage, product shape, color, volume, and more. They also use the technology to periodically test their employees on their knowledge with this clear and visual software.
Objective Measurements Provide Assurance in Tumultuous Times
Vision inspection technology is rising to the occasion to help bakeries and food producers address many challenges the industry is facing today. Companies are finding success by taking a tried-and-true method traditionally used in one aspect of production but applying it creatively to meet business goals, develop more robust brand standards, and satisfy consumers.